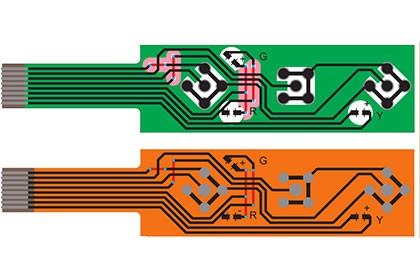 Niceone-tech customized membrane switch panel will be based on product application, circuit density, conductivity, resistance, whether many electronic components are required, operating environment, customer budget and whether to pay attention to silver migration. Silver migration usually occurs in Silver Flex Membrane Switches, which is caused by high voltage and humid environment. At this time we will have two suggestions:

The silver line is printed with carbon oil, but it may not solve the problem.

Use FPC or PCB as wiring.






According to the level of conductivity, it can be divided into two types:
High conductivity: PCB membrane switch, silicone rubber PCB membrane switch, silicone rubber Copper flex membrane keypad and Copper flex membrane switch
Low conductivity: silver membrane switch panels, silicone rubeer silver membrane switch panels.
Flexible membrane switches include:
Copper Flex Membrane Switches
Rigid membrane switch includes:
Silicone rubber membrane switch
For more information, please look at the blog post titled: User Interface Products for Withstand Harsh Environments
Contact Niceone-tech now regarding your user interface assembly. Visit our Membrane Switch Product Gallery to learn more about the various constructions and product features we can offer, and learn how Niceone-tech can customize your touch keypad membrane switch assembly to meet and exceed your unique application requirements.